DROPSY is:
| | |
| --- | --- |
| David L. Cooper | - voice and vibraphone |
| Alexandre Garcia de Soria | - bass |
| Garth Steel Klippert | - saxophone |
| Mathias Kolehmainen | - drums |
| Matt Lebofsky | - keyboards, percussion, and backing vocals |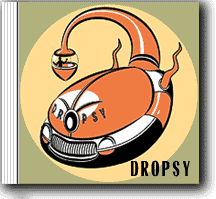 The DROPSY CD,
entitled DROPSY,
is available exclusively
via bandcamp.

The album is also streaming
all over the place.

- REVIEWS -
---
Cooper eschews retro standbys and tired cheese for a regular-guy approach to cabaret performance. Forget about cover songs and vintage togs; here's a guy who wears T-shirts and cargo shorts with an arsenal of infectious original tunes for vibraphone, keyboards, bass, drums and horns. Even when he boasts, "I used to play canasta with Abe Vigoda/ I used to have a pig farm in South Dakota," you think he may be delusional, but you don't want to argue. The crack band includes former Ninewood drummer Mathias Kolehmainen, Mumble & Peg's Matt Lebofsky on keys and Garth Steel Klippert on saxophone.
-- Beth Lisick
SFGate
April 2002

---
Through witty and arch lyrics, Cooper's chocolate shake vocals veer from a sharp rib-jab to perversion to sincerity with aplomb. The band is hecka tight, and have clearly been incubating in an oxygen-rich lounge somewhere... a group of Mensa fifth-graders in tuxedos...
-- Dan Nelson
Bay Area BUZZ Magazine
September 2003

---
DROPSY has many musical tendrils, emanating from the vicinity of a funky lounge, sometimes snaking into dark caverns. The band sounds friendly enough, but displays its canines at unexpected moments. Cooper's droll lyrics brim with invective, taunts, boasts, disturbing delusions and bad advice. Yet we feel that Cooper is somehow singing on our behalf, to a mutual enemy, in a bar on a tropical island. Things go swimmingly. Dropsy will entertain those who have outgrown the posturing of cool bands, craving instead the square thrill of well-delivered diatribes over cold martinis.
-- Esther Caldwell
MULCH Magazine
September 2003
---
FREQUENTLY ASKED QUESTIONS:
Q: What exactly is dropsy again?
A: A painful swelling of sensitive tissues such as the brain; also known as edema. Goldfish die from it all the fucking time.
Q: What kind of music does Dropsy play?
A: Lounge pop with teeth, and peculiar mock-show-tunes. Your companion will love it, but you will just roll your eyes at it. Later, you'll have an argument about Dropsy instead of sex. The lesson here is that you're better off just pretending to be a fan.
Q: What other bands have Dropsy's members occupied?
A: Eskimo, Secret Chiefs 3, Ninewood, Mumble and Peg, Peachfish, The Beth Lisick Ordeal, Top Brown, Three Piece Combo, Six Eye Columbia, and any number of other fine ensembles.